We're just a few days away from Arrow's winter premiere so having Emily Bett Rickards and David Ramsey attend Heroes and Villians Fan Fest in Portland this past weekend could not have come at a better time!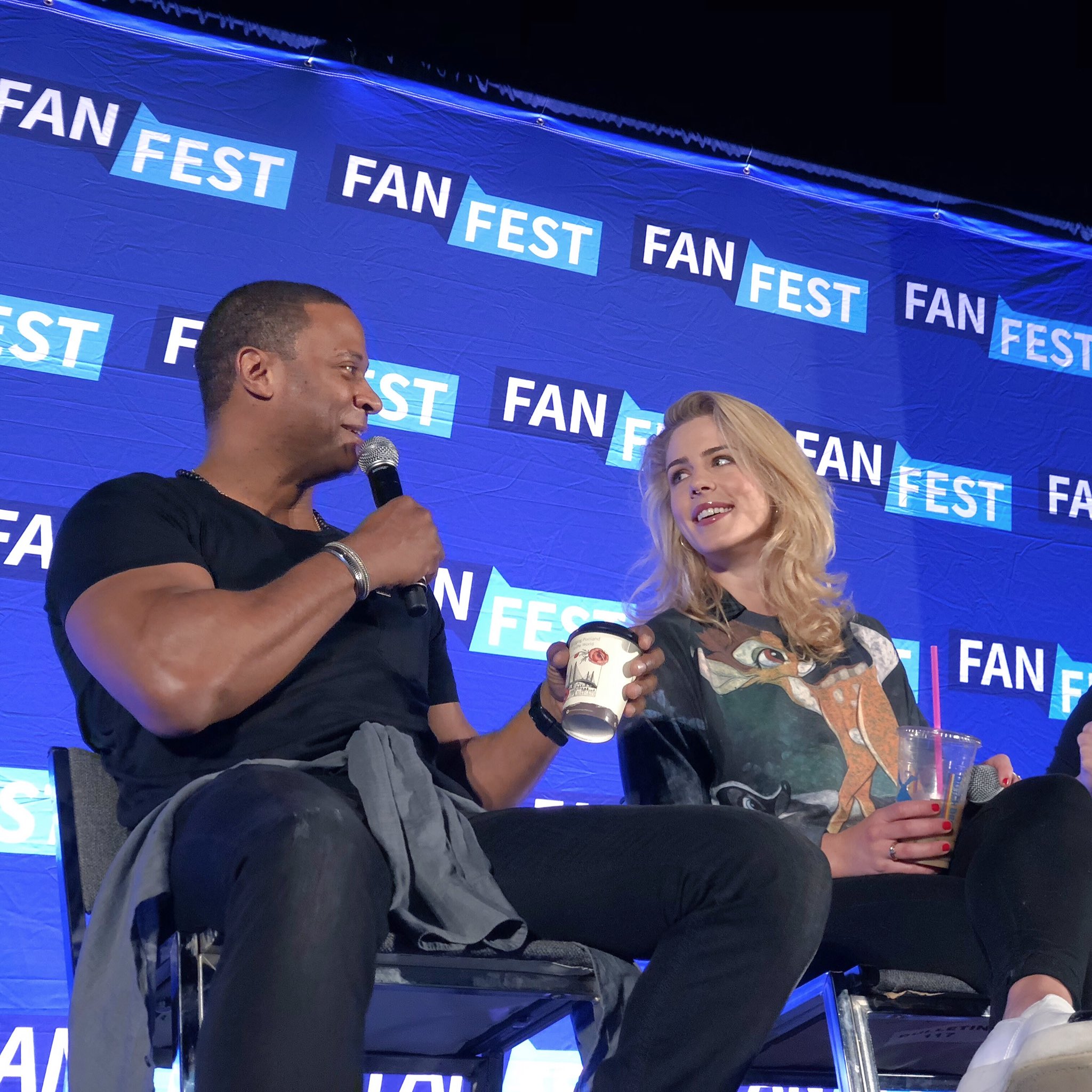 When Felicity Smoak first made her appearance on the Arrowverses's namesake, she brought a light and a humor that we didn't even know we needed. She had an immediate spark with Oliver, but it was her intelligence and tenacity that made us all fall in love with her character and the actress that played her – including her cast mates!
"Thank god Felicity came in. Otherwise, it'd just be Diggle and Oliver brooding constantly," Ramsey said during their panel.
Throughout the seasons, we've seen Felicity grow from the quirky girl hiding behind the computer to a total badass willing to do anything for her team and her people. She's overcome so many obstacles personally, romantically, and professionally and has always found that light at the end of the tunnel and it's one of the qualities that Rickards loves the most.
"I'm attracted to Felicity's bravery, I try to connect to that. I'm chasing that"
And it's safe to say that Emily has taken Felicity's strength to heart…literally. Her and Ramsey paused their panel for a quick push up competition. She completely dominated by the way.
EMILY IS A BEAST!!! @EmilyBett vs @david_ramseypic.twitter.com/XoGQkezthJ

— María (@smoakprince) January 15, 2018
Emily was also asked what made her decide to become an actress, a decision we are all grateful for, and she gave a thoughtful answer about her love of stories at a young age.
"I did a lot of dress up. Read a lot of books. And I think what I always loved was having stories on TV, watching stories, and hearing other people's stories and then metabolizing those stories and going to talk to my mother like a 40-year old woman at the age of 4… I know I always wanted to do it and I always loved different stories…illustrations and making something come alive."
Of course, we couldn't have Team Arrow in the house without discussing the dramatic mid-season finale where it was revealed that the FBI found a witness in their vigilante case against Oliver, and it was someone on his team. When asked if either one of them thought it would be one of their characters that were the rat they both responded with a "No, not even a little bit."
"We're probably the two people that would never betray Oliver," Ramsey assured.
But fans were dying to know whether or not they'd be seeing more of Diggle and Felicity together in the back half of the season, and you'll be happy to know the answer is affirmative, but only if you call them Delicity.
Q: "Are we going to get more Diggle and Felicity moments?"
Emily: "First of all, call it what it is: #Delicity."
…
David: "Because there has been a fragmentation in the teams, [there is] a lot more interaction between Diggle and Felicity."#HVFFPortland

— MJ (@Iloveyoursoul) January 14, 2018
Oliver Queen himself, Stephen Amell, even crashed the duo's panel, making every OTA fan's dreams come true.
David, Emily, and Stephen are the reason why OTA will always be the best. 💘 #Arrow #HVFFPortland pic.twitter.com/AOnUBGPR0c

— [email protected]💘 (@CodeVeronica) January 14, 2018
While we love Team Arrow for everything that their characters are, the actors couldn't help cracking a joke when asked about the one thing they wished they could change about their characters:
Stephen: Don't get on the boat, you idiot! With your girlfriend's sister.

Emily:  If Felicity was 2 inches taller, she wouldn't have to wear 4-inch heels.
Emily also couldn't resist a shot at Oliver's often moody character when asked what would be on the Orginal Team Arrow's playlist:
Q: "What would be on Oliver, Diggle and Felicity's playlist?"
Emily: "My Heart Will Go On."
…
Emily: (about Oliver's) "Matchbox 20."#HVFFPortland #Arrow

— MJ (@Iloveyoursoul) January 14, 2018
Arrow returns to The CW this Thursday at 9:00 EST. Be sure to head back to FanFest.com for all of your favorite vigilante coverage! Can't wait until then? Check out some of our other Arrow articles in the meantime:
'Arrow': Roy Harper returns in New Behind the Scenes Photos
'Arrow' Character Spotlight – Dinah Drake
Fan Fest Picks: Favorite Arrowverse Moments of 2017