If you're a Netflix subscriber, chances are you've either watched or come across their latest original series Chilling Adventures of Sabrina. The supernatural drama is based on 2014's Archie horror comic of the same name that put a much darker and grimmer spin on the beloved teenage witch. The series has been a huge hit for Netflix so far having already received a second season order and a Christmas special.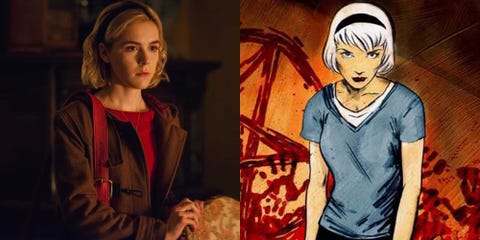 Now, it looks like there is more on the way! Entertainment Weekly has confirmed that Archie Comics will be creating a brand new Sabrina the Teenage Witch comic miniseries that will be written by Kelly Thompson and illustrated by Veronica and Andy Fish. The five-issue series will be more aligned with the lighter Melissa Joan Hart sitcom, Sabrina the Teenage Witch, that ran on ABC from 1996-2003.
"The first issue finds Sabrina moving to Greendale alongside her aunts Hilda and Zelda. There's no Dark Baptism on the horizon here; instead, Sabrina's struggles are more down-to-earth (balancing love interests, an instant rivalry, and a couple of misfits who might or might not become fast friends), as she navigates high school and manages her burgeoning magical powers," EW revealed.
Aside from Archie Andrews, Sabrina is one of the most recognizable and beloved characters in the Archie universe, so giving readers the chance to see an all-new and much brighter story involving the character is something that Archie comics and Thompson are more than happy to provide.
"Because Chilling Adventures of Sabrina already exists and is brilliant, readers should expect something a little different in our book, a modern interpretation of the classic. One of my favorite things to do is come in and modernize a wonderful classic, and I hope with this incredible team on board we can do something really special with Sabrina," Thompson said in a statement.
The first issue of Sabrina the Teenage Witch will be available on March 27. In the meantime, season one of Chilling Adventures of Sabrina is currently streaming on Netflix.